Joann Sullivan on January 12th, 2015
2015 is here. The silver tsunami continues to grow. Where are we all going to live? Lots of seniors cannot afford to stay in their homes or apartments when they retire. For many low income senior housing facilities, there is a five year waiting list.
There are several things that I am working on (with others) which will help relieve some of the housing problems.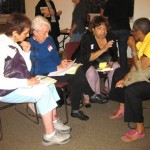 First is TTN-Home, A Community of Women over the age of 50 Exploring Housing Options. Our planning committee (Arlene Reiff, Lynn Richards, Mona Kreaden, Christine Olsen and me) is getting ready to start the new series. Beginning in January 2015, we will introduce a series of in-depth interactive workshops, designed to build cohorts of women interested in moving forward with their housing issues and concerns within a supportive environment.
The first series of workshops (January, February, and March) will focus on Shared Housing, which includes the options of two or more unrelated people renting or buying a house or apartment together.
The Shared Housing workshops will focus on the building blocks needed to work through the obstacles and issues, enabling participants to take specific steps toward achieving their goals. Part of the process is to enable participants to develop a network of like-minded women who might be interested in looking together at places to buy or rent and/or explore further sharing a home.
The dates of the workshops will be January 24, February 28 and March 28 at 1:30-4:00 in the New Oakland Room at the First Congregational Church, 2501 Harrison Street, Oakland.  The cost of the three part series is $45.00. Contact Arlene Reiff (awr1@mindspring.com) to reserve a place.
Second is the revised Accessory Dwelling Unit Ordinance for the City of Berkeley. Accessory Dwelling Units (ADUs) are self-contained smaller residential units built on the property of a single family home.  They may be attached (an above the garage unit or a basement unit) or detached  (granny flat, carriage flat, backyard cottage).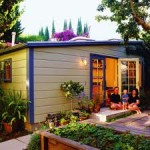 ADUs enable communities to grow internally rather than externally, providing additional housing without consuming additional green space.  They limit suburban sprawl, provide new housing  and can help homeowners financially.  They enable seniors to remain in their own neighborhoods as they get older and help multigenerational families live close to one another, affordably and to provide support for young children and elderly family members.
The proposed ordinance is a great improvement over the previous one.  As proposed, it will include the following:
1)    ADU would be allowed in rear of parcel.  ADU allowed in front or side of parcel with Administrative Use Permit (AUP).
2)   The subject lot shall have an area not less than 4,500 square feet.  Lot size can be less than 4,500 square feet with an AUP.
3)   ADU cannot exceed 12 feet in average height (single story) and 640 square feet
4)   ADU with minimum of  4  feet rear and side setbacks.  Allow ADUs  less that 4 feet from property line with AUP.
5)   One additional off-street tandem parking space allowed.
6)   Eliminate parking requirements for an ADU consistent with the  following:  1) ADU is within 1/4 mile of a major transit line, transit hub or BART station, 2) ADU is within a Residential Parking Permit zone and 3) ADU would be prohibited from receiving Residential Parking Permits.
7)  Maximum size of ADU is 640 square feet with maximum lot coverage less than 40%.
8)   ADU can exceed 40% lot coverage (to a maximum of 55%) with an AUP.
9) Allow for expediting of building permits or over the counter permits if applicant chooses to pay for the expedited service.
Over the past couple of years, I have spoken with many Berkeley homeowners who are interested in building ADUs and look forward to the revised ordinance. This ordinance will come before the Berkeley City Council in February.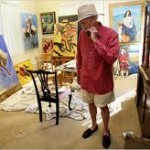 Third is new senior housing in Berkeley.  Many months ago I wrote about the Burbank Senior Artists Colony which is the most exciting senior housing facility I have seen.  From the time I first learned about it, I felt that we needed a Senior Artists Colony in Berkeley. I could not decide how to proceed with this idea and one day wrote an email to the housing developer who built the Burbank project. A few weeks later, they responded and I spoke with the President of the company who told me that they would love to build a Senior Artists Colony in Berkeley. Now I am busy looking for land on which to build the facility and talking with artists and teachers who would be interested in teaching classes there. We are only in the very beginning stages, but I am looking forward to a wonderful new place for Berkeleyans to retire.  It will take at least five years to complete the project, but at lease we are getting started.  Where would you rather live? A senior housing facility or a senior artists colony?
Stay tuned.
Tags: Aging and Health, Aging in Place, Berkeley, Berkeley Seniors, East Bay Smart Senior, Health and Safety, Home Safety, Resources for Seniors, Seniors in Berkeley