Joann Sullivan on June 15th, 2015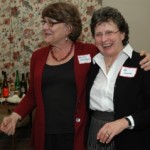 I have been writing and talking about Ashby Village for over seven years. From the beginning, I thought the village movement (beginning with Beacon Hill Village)  was the best idea  for helping elders stay in their own homes as they aged. It takes a village to raise a child; it takes a village to care for its elders.  Shirley Haberfield and Pat Sussman were the founding mothers for Ashby Village.  They did such a great job of laying the groundwork for the development of our village.  We met monthly for years planning how we wanted our village to work.
Yesterday Ashby Village celebrated its Fifth Anniversary with a Town Hall meeting. Over 100 people attended. I have always felt that the people I met through Ashby Village are the nicest and most interesting people I know.  It launched with 85 members and today is the fastest growing village in the country.  Ashby  Village now  has over 330 members and 345 volunteers, with members range in age from 56 years to 102 years. There are over 20 volunteer committees, from social services to home safety to neighborhood groups.  There are several social events each week, many revolving around food.   Judy Boe and I are in charge of the Preferred Providers Team and have put together a list of vetted providers so that when members call in, needing help with almost anything, the Ashby Village staff have a vetted provider to refer them to.
There are now villages in most communities in the Bay Area and the movement is spreading throughout the state and nation. Ashby Village is working with San Francisco Village to establish a California coalition of villages.
Happy Anniversary Ashby Village!
Tags: Aging in Place, Ashby Village, Beacon Hill Village, Berkeley, Berkeley Seniors, Health and Safety