Joann Sullivan on November 1st, 2016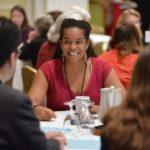 I went to the Grantmakers in Aging Conference last week in Portland as part of my work for the East Bay Foundation on Aging. I had an absolutely wonderful time learning how people in other parts of the country and Israel are solving the problems of their aging residents. The people in the granting organizations are so committed to serving the needs of their beneficiaries.   It made me feel much better about the future of our country, knowing that some of the best minds in philanthropy are dedicated to improving the lives of elders in their communities.
The lectures were about family caregiving, palliative care, social determinants of health, long term care financing and aging in rural America. Some of the sessions I attended were on using technology to address the needs of older adults and best practices for alleviating social isolation. I was part of a roundtable discussion on aging friendly communities. I learned so much from other people who are working with many of the same types of issues that we have here in Berkeley to become more age friendly. (It was notable that this conference was held in Portland on the tenth anniversary of their becoming the first World Health Organization designated Aging Friendly City in the United States.)
The highlight of the conference was my trip to Bridge Meadows, a unique intergenerational community in North Portland. Its residents are adoptive parents, foster children and low income elders who pay reduced rent in exchange for helping the parents with child care, homework assistance and almost anything else the parents need to support their families.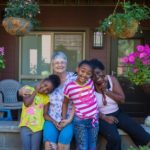 The children were at school when we were there, but we heard from many of the elders about how their lives had been transformed by being part of this amazing community. A newer resident told about how lonely she was before moving to Bridge Meadows; now she is so involved with the other elders and the families who live there.  One of the elders told about taking her family on a camping vacation in the summer. Another told about her work helping a single mom take care of her children while taking on the responsibilities of a demanding job.
Here is a video that describes how the residents feel about their home at Bridge Meadows.
I am always interested in innovative housing options for seniors and Bridge Meadows is a winner. A group of foster youth who have aged out of foster care will be moving to a residence across the street from Bridge Meadows. There is also a second residence being built in Beaverton, Oregon.