Joann Sullivan on October 5th, 2017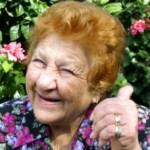 I have said before that I am continually impressed with the entrepreneurial, creative and resourceful senior service providers who see a need and figure out how to meet it. Transportation is one of those needs that has been very difficult to address. I recently met Amy Stice co-founder of Arrive Rides. Their company dispatches on-demand rides for people without smart phones.
Founded at the the start of 2017, the service has developed a loyal customer base of people who do not own smartphones and have therefore been left behind by cost-effective transportation apps. Seventy-three percent of Americans over the age of 65 do not have a smartphone, and on-demand ride companies like Uber and Lyft do not allow people to call on the phone to order a ride. Relegated to calling taxi companies, waiting for senior rideshare vans or paying for private medical escort companies, many of Arrive's customers were not getting out of the house as often as they needed to. Arrive solves that problem by offering Lyft and Uber rides dispatched over any phone.
One of their clients, a 70-year-old San Diego resident, travels with an oxygen tank and had been reliant on a combination of public transit and taxi services prior to his Arrive membership. It was a constant concern that he would not be able to make it home from his errands before his oxygen supply ran out. "When I'm using Arrive, I know that someone is watching out for me and is going to make sure that I get a car that will get me home on time. . . Before I found Arrive, I was dependent on the bus and friends," he says. "This service has let me retain my independence."
 Elizabeth Legg, Arrive's co-founder and COO, says this is what makes Arrive unique. "Every time we dispatch a ride, we talk to the driver to give them very clear instructions to find the customer, and we monitor the ride to make sure it's going as planned. We take on the responsibility of smoothing any bumps that can occur with on-demand rides."
A Berkeley resident relies on Arrive's guaranteed conversation with the driver to ensure a smooth pickup. She is blind and relies on a combination of public transit and Arrive to get to and from daily meetings. Whenever she orders a ride, her Arrive concierge tells the driver to look for a woman holding a white cane and to call out her name so that she can find the car. "Arrive keeps this request and all of my destinations in their database, so I don't need to explain the help I need every time I order a ride," she says.
You can sign up yourself, family members or friends on their website (www.arriverides.com). The membership fee is $10.00 per month and there is a $3.00 service charge for each ride. The dispatch service is available seven days a week from 9 a.m. to 6 p.m.  Until self-driving cars are more available, Arrive is a really good alternative.