Joann Sullivan on August 9th, 2016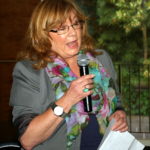 Several years ago I attended a presentation by Anabel Pelham who is Professor Emeritus of Gerontology at San Francisco State University. She talked about her work in Los Gatos to become a Global Age Friendly City. I was so excited to hear her speak about their work in the South Bay and felt that this was something we really needed to do in Berkeley.  After all, Berkeley is the home of the Independent Living Movement and as I have said many times, it is the best place I know of to grow older.
My enthusiasm was re-kindled a few weeks ago when I heard her speak again at the East Bay Foundation on Aging's Celebration of its Grantees. I told her about my ideas and I also found out that there is a group of people in Berkeley already working on making our city an aging friendly city.
First a little background information.   In 2007, the World Health Organization (WHO) began an international effort to respond to two significant demographic trends: urbanization and an aging population. At that time, over half of the world's population lived in cities. It was projected that by 2030 sixty percent of the population would be elderly, mostly due to improvements in public health and people living longer.
To help cities prepare for these trends, the WHO developed the Global Age-Friendly Cities project. They identified eight domains that age friendly cities must address to "optimize opportunities for health, participation and security in order to enhance quality of life as people age."
The eight domains are:
Housing
Social Participation
Respect and Social Inclusion
Civic Participation and Employment
Communication and Information
Community Support and Health Services
Outdoor Spaces and Buildings
Transportation
It is the Berkeley Age Friendly Project's goal to assess the current needs in the city of Berkeley according to the 8 domains of the WHO Age-Friendly platform. Based off of this assessment, the group will start the process of applying to become a WHO Age-Friendly City.
The people working on Berkeley's Age Friendly Project are Abbey Dykhouse, Coordinator of the project and Leah Talley, Director of Senior Services for the City of Berkeley.  The key partners are:
Ashby Village
Lifelong Medical Care
Center for Independent Living
City of Berkeley, Aging Services Division
I am so excited about this project because I know that when our city takes the steps to improve the environment for older people it will be a better city for people of all ages.