Joann Sullivan on May 6th, 2011

Last month the AARP Bulletin had an article about new housing options for seniors.  For many readers around the country, these options will seem very innovative.   Here in the Bay Area, we are fortunate to have been on the forefront of creative senior housing innovations for years.
Berkeley Town House at 2550 Dana Street was the first senior housing cooperative in the country when it was built in 1962.  Rossmoor in Walnut Creek was another innovative retirement community when its development began in 1953.  Glacier Circle in Davis, completed in 2006, was the first elder cohousing project in the country.   The East Bay is also home to several multigenerational co-housing projects.
Many of today's seniors want to remain in their homes or move closer to urban areas where they can participate in the cultural and intellectual activities they now have time for, public transportation to take them wherever they want to go and other entertainment opportunities they cannot find in suburban and rural areas.   Others are downsizing from their large homes to smaller, more manageable condos or coop apartments.
Ashby Village is proving to be a very important program for a growing number of East Bay seniors, enabling them to live in their own homes and receive the support and services they need to confidently age in place.  Members of Ashby Village are creating a community in which some members need the services of volunteers and/or paid service providers.  Others members volunteer their services in the office,  developing programs, facilitating groups, driving members to the doctor, etc., knowing that some day they might need the services themselves.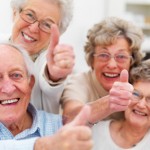 Niche housing for seniors is another innovative senior housing option.  In Berkeley, a particularly forward thinking group of friends bought an apartment building as tenants-in-common about twenty years ago so they could grow old together.   After a while they converted the building to condominiums.  A few of the original tenants have moved on, but many of them are still there.  Other like-minded groups are doing this now, looking for multiple unit buildings (duplexes, triplexes, hotels, etc.) that they can buy together and live in close proximity as they get older.  In Minneapolis, there is a service that helps divorced, widowed or never-married older women find living situations together.
Another option is the accessory dwelling unit, like the "Inspired Inlaw" created by Larson Shores Architects in Oakland.  These cottages are free-standing, permanent homes that allow multiple generations to live on the same property with separate entries and living spaces, maintaining everyone's privacy, enabling peace of mind, pooling family's resources, and promoting independent living. The proximity allows families to support each other, whether senior care is being given by an adult child or a grandparent assisting with childcare for grandkids.   There are several units being constructed around the country now and one in El Cerrito will be completed this summer.   My friends Judy Boe and Shirley Haberfeld and I were fortunate to see one of the "Inspired Inlaw" units at the San Francisco Green Event last October and we were very impressed.
We area so fortunate to live in a community with so many options for us as we get older.  I believe that Berkeley is going to be the best place in the country to grow old and that we will be setting standards for the rest of the country for a long time.