Joann Sullivan on October 30th, 2017
I attended the national Grantmakers in Aging (GIA) conference in Boston a couple of weeks ago. This is the second GIA conference I have attended and I feel honored to be a part of it. I learned about so many new and innovative projects to help older adults and learned about new initiatives and policies on aging. There seems to be a genuine bond between the people who attend the conference—everyone is just so nice. This year, there was a major focus on reframing the way we feel about aging.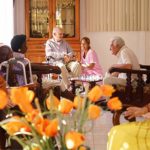 The highlight of the conference for me was the field trip to the Urban Green House® at Chelsea Jewish Lifecare in Chelsea, Massachusetts.  Barry Berman, CEO of Chelsea Jewish Lifecare, told the story of his mother who had been a patient in their facility several years ago. He went to see her the day after she was admitted and was told that she was down the hall in the dining room. He went into the dining room and did not recognize her; she had deteriorated so much in one day. At that point he knew that their facility needed to make big changes.
William Thomas, M.D., an internationally known authority on elder care, and Steve McAlilly of Mississippi Methodist Senior Services developed the Green House® model in 2003, based on the traditions of the Eden Alternative, a global organization that aims to deinstitutionalize long term care facilities by changing the culture of nursing homes.
Most of the models have been developed in rural areas, mostly in the Midwest where land is more plentiful. The Chelsea facility, completed in 2010, is the first urban Green House®. 10-12 elders are clustered into ten houses where each resident has his or her own bedroom and bathroom. Two of the houses at the Chelsea site are the first in the nation to be specifically designed for people with ALS and multiple sclerosis. Unlike most institutional nursing homes, the Green House® model is warm, smart and green.
Warm—A warm home is a welcoming place of comfort, safety and refuge. The interior materials, colors and furnishings project a sense of belonging for those living and working in the home. The elders' private bedrooms allow ample sunlight and have easy access to a common hearth, with a living room, open kitchen and dining area.
 Smart –Technology is used to create a comfortable and safe environment that fosters the well-being of elders and those who work with them.
 Green—A green environment is one that supports growth through meaningful interactions with life-enhancing natural resources, such as plants, natural lights and therapeutic outdoor spaces.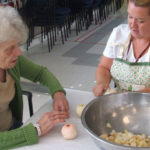 In this homelike setting where staff dress in street clothes and consider the residents their bosses, many debilitated elders come back to life. They follow their own schedules and interact with staff, other residents and visitors. They develop relationships with one another because of the small community size and homelike atmosphere.   Many help with food preparation and eat in a dining room, rather than a cafeteria.
The Robert Wood Johnson Foundation has provided much of the funding for the Green House® has called the model "a catalyst for significant social change."  I have been hearing about the Green House® model for years and am thrilled that I actually got to see one in action.