Joann Sullivan on March 20th, 2017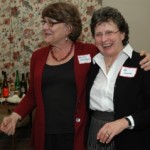 On Saturday afternoon, I met with a group of Ashby Village members who are interested in where they will spend the next stage of their lives.   As many of you know, Ashby Village is an organization close to my heart. Many years ago, my good friend Judy Boe and I heard of a new organization in Boston called Beacon Hill Village whose purpose was to provide the support that the elderly residents needed to enable them to stay in their homes as they got older. A while later, we joined others in Berkeley, notably Shirley Haberfeld and Pat Sussman (the founding mothers of Ashby Village) in creating this remarkable organization.
The Ashby Village members I met with want to stay in their own homes as long as they can. They are considering expanding or remodeling their homes so they can have family members or caregivers living with them. Many of them are very interested in the new state legislation making it easier for homeowners to build Accessory Dwelling Units in their backyards. They also had questions about retirement communities and want to learn more about the facilities here in the East Bay. We are planning to have an architect with experience in helping homeowners adapt their homes for aging in place and an Eldercare Specialist speak to the group at a later date.
Everybody says they want to age in place, but what they really want is to age in community. Ashby Village is a good community resource, but it is important that people who live alone know their neighbors and have back-up plans in case of a fall or accident.
With a Little Help from our Friends by Beth Baker is a book that I recommended to them (and to everyone I know) about growing older in community. Ms. Baker writes about people all over the country who have identified problems in their living situations and worked to solve them. Many of them came up with very creative solutions, like the residents of Boston who created Beacon Hill Village and launched a movement, those in a senior mobile home park in Redmond, Oregon and the seniors who spend their lives travelling around the country in their RVs who built an assisted living facility in Texas specifically for people who live in RVs.
Many people in my generation do not want to follow their parents into retirement communities. They are genuinely interested in new ways of growing older.   It is a very exciting time for all of us. We are living longer and healthier. Technology offers many opportunities for new ways of living. Exploring housing options for seniors is my favorite subject. I am looking forward to continuing the discussion with Ashby Village over the next few months.
Tags: Aging and Health, Aging in Place, Ashby Village, Beacon Hill Village, Berkeley, Health and Safety, Home Safety, Retirement, Senior Housing Options