Joann Sullivan on January 6th, 2011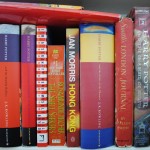 At our house, a large problem is our book collection which has been accumulating for more than 40 years.  There are many books (including college text books of Jon and I plus our kids, computer manuals, pocket books, etc.) that we will never use again.  Many are dusty and mildewed.  What to do with them?  I think a lot of people are asking this question.
We can sell some of them at local book stores which also buy used books in good condition.
Pegasus/Pendragon with three locations in Berkeley and Oakland (College Avenue, Shattuck Avenue or Solano Avenue)  buys books in good condition.  You can exchange your old books for store credit.
Moe's on Telegraph will also give store credit for antiquarian and art books plus other books in good condition.  A friend of mine who was handling her aunt's estate which included many very old and very expensive art books sold many of them to Moe's.  Moe's will do house calls to evaluate large personal libraries.
Half Price Books on Shattuck in Downtown Berkeley is not quite as selective as Pegasus or Moe's, but does not accept textbooks.  They will make an offer on everything you bring in and will give you cash for your books.
Friends of the Berkeley Public Library has two bookstores which sell used books.  They are:
Central Library Bookshop
2090 Kittredge Street
510-981-6211
Open Monday, 12-4, Tuesday-Saturday from 10-4 and Sundays from 2-4.
Channing/Telegraph Bookstore
2433 Channing Way
510-841-5604
Open Tuesday-Saturday 10-4
These bookstores will accept re-sellable books that are in good condition with no mildew, no whiffyness, no underlining and no datedness (i.e., no old computer books or old law books or old health books, etc.)  Smaller quantities can be dropped off at their bookstores during open hours.  They will pick up collections of 4 or more boxes from Berkeley residents.  Call either store for information.  (My friends in my book club tell me that their local libraries (Albany, Sebastopol, etc.) also accept donations of used books, so if you live in an area which has its own local library, give them a call to see if they accept book donations.
Bay Area Free Book Exchange, located at 10520 San Pablo Avenue in El Cerrito, is open from 9am-6pm on Saturday and Sunday.  They do not accept:  VHS tapes, AAA tour books, water-damaged books, encyclopedias, National Geographics, Reader's Digest Condensed Books and magazines.  You can bring books during their business hours or drop them through the door slot.  If you need additional information,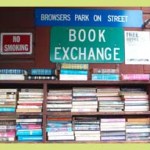 El Cerrito Recycling Center Book Exchange is located at 7501 Schmidt Lane.  Visitors may take or leave books as they wish.  They ask that books be placed on the shelves, not on the ground.  They are open from Monday-Friday 8am-5:45pm  and Saturday-Sunday from 9am-4:45pm.
There also is a Goodwill Industries donation site at the El Cerrito Recycling Center which is open daily from 10am-4:30pm.
Over the next few weeks, I am going to be visiting some of these book stores and exchanges.  I will let you know how it goes.  Let me know about your experiences with getting rid of books, too.