Joann Sullivan on April 22nd, 2016

I just finished reading Beth Baker's With a Little Help from our Friends. This book is great for anyone interested in and considering alternative housing options as they get older.   Like Ms. Baker says, what everyone wants to do is to age in community. That is what this book is about. She presents lots of options:
1) *Villages (like Ashby Village and North Oakland Village)
2) *Co-Housing (like Phoenix Commons, the new senior co-housing community)
3) *Cooperative Apartments (like Berkeley Town House) and Mobile Home Parks
4) Naturally Occurring Retirement Centers (NORCs)
5) Community without Walls
6) Generations of Hope
7) *Affinity Groups (like the Burbank Senior Artist Colony)
8) *House-sharing
9) *Multi-generational Housing
10) *Universally designed Homes
11) *Assisted Living with Technology
If you have been reading East Bay Smart Senior, I am sure you recognize many of these options.   I indicated the options that I have written about with an asterisk.  If you want more information, enter the option in the Search box at the top left of the blog and you can look up the articles in the archives section.
Some of the examples of community living are new, though.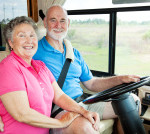 Escapee Cares is a retirement community for RV enthusiasts who can no longer drive around the country because they cannot take care of themselves or their spouse's needs following an illness, injury, surgery or the progression of a long term health condition. The RVers drive to Escapees CARE (Continuing Assistance for Retired Escapees) in Livingston, Texas where they can continue to live in their RVs and receive assisted living services like meals, transportation, housekeeping and laundry.   In 2012, the cost was $849 per month at Escapees CARE compared to $3550 per month, the national average cost for assisted living.
According to AARP, the sense of community at Escapees CARE is striking. RVers are special people (there are over 25,000 nomadic retirees living in RVs in the United States) and they established this center to care for their own.   Donations from members make up about half of the operational budget and volunteers keep the costs down.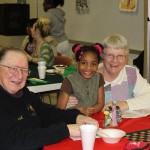 Another community, Hope Meadows is the brainchild of Brenda Eheart. This community was built on an abandoned air force base in Rantoul, Illinois in 1994. This site houses pre-adoptive families, foster children and elderly volunteers who help the families with childcare, tutoring and other projects in exchange for reduced rent in the community.   Other communities have been built on the same model and center around different vulnerable populations: disabled veterans, young mothers coming out of prison and adults with developmental disabilities and their caregivers. There are plans to build an intergenerational community around elders with dementia and their caregivers.
Both of these communities represent the development of a special community to fit the needs of seniors looking for very specialized communities.  They make me think that anything is possible if we can just figure out how we want to live our later years.